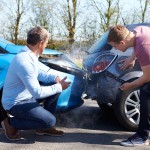 When you set out on a journey, you don't expect to breakdown or be involved in an accident, but it can, and does happen to drivers on a daily basis. And whether you're on the motorway, in a city, town or on a rural road, it can be highly dangerous as well as inconvenient. So to avoid panic and putting yourself in unnecessary danger, here are the right steps to follow if an accident or breakdown situation does arise.
WHEN YOU'RE INVOLVED IN AN ACCIDENT
DO stay calm, put your hazard lights on, and find a safe area to stop if possible.
DO set out cones or a reflective triangle to make the accident area more visible to other vehicles. (Make sure you have the right contents in your car for all eventualities). This is particularly important if the crash happens at night or at anytime visibility is low.
DO ask everyone if they're injured or feeling unwell.
DO call 999 to alert the Gardaí and, if necessary, ambulance and fire services.
DO take the names and contact details of any witnesses, including passengers in every vehicle involved in the crash.
DO ask to see the other drivers' licences, and take down their licence number, number plate and address. All parties should exchange policy numbers and the names of the insurance companies should be written down.
DO (if possible) take photos or make notes on the accident scene, i.e. the direction the cars are in, skid marks and any debris from the accident.
DO contact your insurance company and give them all the information you gathered at the accident, such as the drivers' insurance details, the damages sustained, and the types of vehicle involved in the accident.
DON'T ever leave the engine running, otherwise it can become a safety hazard and you risk starting a fire. Once your vehicle has stopped, turn off the ignition immediately.
DON'T administer first aid without the consent of the injured person if they are able to give it. If possible, don't move or attempt to treat severe injuries until medical services arrive.
DON'T under any circumstances leave the accident until the Gardaí have arrived.
DON'T at any time make an admission of fault.
Finally, in any situation – accident or breakdown try not to panic. Shock and anger are natural emotions, especially in the event of an accident, but if you do your best to remain calm and in control of the situation, it will be a lot easier to get through.
——————————————————————————————-
This content is published with the consent of Liberty Insurance.
Visit the Liberty Insurance Facebook and Twitter pages for more #DriveSafer tips or get a car insurance quote today.