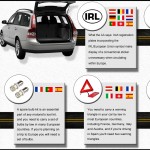 Many Irish folks are gearing up for their holidays. As always, Europe is proving a popular destination for people, lots of whom will be opting to drive.
But before you hit the road, remember that there are certain compulsory items you are legally obliged to carry in many countries when driving. Some will be obvious (IRL sticker), others less so (breathalyser).
We've compiled a list of compulsory items according to the countries below. So, be sure to check the list carefully…and happy holidaying!