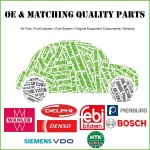 If you have ever bought car parts online, you've probably encountered the Acronym's OE (Original Equipment) and OEM (Original Equipment Manufacturer).
While you can probably hazard a guess as to what these imply, it's worth noting their importance and what they signify in terms of the car parts market.
The 'Block Exemption Regulation' made it necessary to provide 'matching quality' parts acceptable as replacements when a vehicle is still under warranty but being serviced at an independent garage.
This has undoubtedly been a good thing for the consumer. In essence, it meant that the competition for the provision of parts increased, and allowed people to choose a better priced alternative to the Original Equipment part without invalidating their warranty. This has equated to big savings and more consumer choice.
However, it's not necessarily as simple as just choosing a cheap alternative especially where Engine Management Components are concerned. The electronic content on new vehicles continues to rise at a rapid rate. In the 1980's, 15% of a vehicle's value was electronics. Today that number is 40% and growing.
Because of the influx of parts by a large group of manufacturers some caution must be exercised when selecting the part for your vehicle. Sensors, Air Flow Parts and Fuel Injection components rely on electrical connections – an incorrect match will inevitably prevent these parts from functioning properly.
At motorparts.ie, we stock a range of OE and Matching Quality Engine Management Components. CONTACT US for more information.