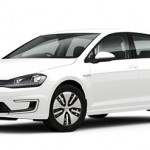 The 2015 first quarter figures are in for cars sold in Ireland and it's a familiar trio occupying the top three spots.
The perennially popular Volkswagen Golf takes the number one spot for car sales in Ireland, with the Ford Focus and Nissan Qashqai taking up the second and third spots respectively.
There was close to 75,000 new cars sold in Ireland since January, with the Golf contributing 3.600 to that total.
That overall figure represents a 28% increase on new cars sold this time last year, according to the Society of the Irish Motor Industry who carried out the research.
The most popular colour car sold was black, followed by silver, white and maroon. Unsurprisingly, Dublin led the way in terms of sales contributing 40% to the overall figure.
Top 10 Models
Volkswagen GOLF
Ford FOCUS
Nissan QASHQAI
Toyota COROLLA
Skoda OCTAVIA
Hyundai IX35
Ford FIESTA
Volkswagen PASSAT SALOON
Toyota YARIS
Kia SPORTAGE