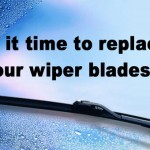 Visibility is key to safe driving, especially here in Ireland. A well maintained set of wiper blades are essential not only when facing the wet weather conditions, but also with regards to the continued cleanliness of your windscreen.
It is important to not wait too long to replace worn blades. A torn wiper blade can allow the wiper arm to rub against the glass, which can potentially ruin the windshield.
How Often Should You Replace Wiper Blades?
The wear depends of the temperature and use but it is generally recommended to replace your wiper blades twice a year:
Autumn: the heat after summer accelerates the wear. Replace those wiper blades before winter comes.
Spring: the bad weather will decrease the efficiency of your wiper blades. Replace ahead of the summer.
Damaged Blades: Warning Sings
If you notice one of the following, it's time to replace your wiper blades:
Your wiper blades leave tracks / haze on the windscreen.
Wiper blades slide / scrape badly.
Wiper blades are noisy / squeaky.
Wiper blades skip across the windshield caused by a curve in the rubber
Wiper Blades: Maintenance
It's advisable to give the rubber blades a wipe down every month. This will remove any debris, grime or loose bits of rubber. Use Alcohol wipes are recommended for this.
You can increase the lifespan of the blades by keeping your windshield clean. Wash your windshields with alcohol to get all of the oil residue from the road off your windscreen. Also, fix any chipped segments on the windscreen – these cut wiper blades.
During the winter months, defrost the windscreen before switching on the wiper blades.
Find Your Wiper Blades Quickly
With our tools and your registration number, we can find the specific wiper for your car.
Just head to motorparts.ie. Be sure to check the product notes and images provided to ensure they match your current wiper blades.