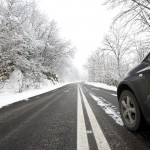 Oh, hello Abigail. Power cuts, schools closed and ferries cancelled. We think it's safe to say, that after a good run, winter has finally arrived. And with it comes the need to run through the routine winter checks to ensure you keep motoring safely over the winter months.
Winter Checks
When conducting your winter check, pay attention to:
Tyres: Up to 25% off Selected Tyres
A complete new set of winter tyres (where the rubber is optimized to stay flexible during cold snaps as opposed to regular tyres which turn hard and slippery) might sound expensive. However, in reality, if you spend a lot of time on the road during the winter months it's a worthwhile investment. And besides, while you're driving around on the winter tyres, the regular set isn't being used and worn down. Even if you don't require winter tyres, it might be worth considering changing your tyres if you haven't done so for a few years.