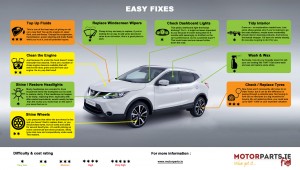 With sales of new cars in Ireland reaching pre-2008 figures, the second-hand-car market is about to become a whole lot more competitive with an influx of vehicles expected.
If you're one such person looking to trade up, there are some things you might want to consider before attempting to offload your second-hand-car. There's a number of things you can do to ensure you get the maximum value on a second hand motor that don't require mechanical expertise or a lot of money.
Equally, there are a number of jobs that should ALWAYS be left to the professionals.
We've outlined below some tips for easy fixes, our recommendations for jobs best left to the professionals as well as some additional pointers for getting the best value for your old motor.